80
---
Discover the Belgian Hemp Museum
Genon Jensen
Le Bombe Verte
jensen-genon@euroclear.com
---
Tucked away among the green rolling valleys of the southern region of Belgium lies Musée Gaumais, quietly guarding the last vestiges and customs of a once important hemp crop. The museum, situated in a former religious convent, boasts of an impressive collection of hemp transformation machines, photos and documentation dating from the end of the 19th century.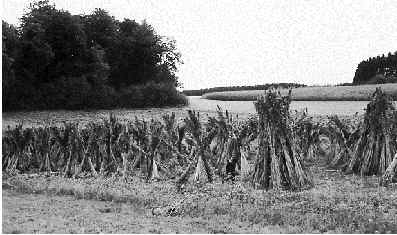 Role of hemp in 19th century rural life
A large section of the museum is dedicated to portraying the daily activities of the 19th century daily rural population in Gaume. It highlights the importance hemp once played in the lives of the entire community, from the men who farmed and harvested it to the women who spun its fibers.
For families in the Belgian and French Lorraine region at the turn of this century, hemp was an essential crop in meeting their needs for strong, durable cloth and linen -- an important criteria for a population that only did laundry once a year! The families in Gaume reserved the best parcels of land, generally less than one hectare, for their hemp crops, which in turn provided for all of their clothing and feedstock needs, and furnished oil for their lanterns.
The museum devotes a room in its "Ethnographie" section to "Travail du chanvre" -- the working of hemp. The reconstructed 19th century workshop displays the different processes of transforming the hemp stalk into spun thread and cloth. Authentic breaking, scutching, combing and spinning machines line the room. A large wooden loom and some authentic hemp cloth are the only remnants of the weavers' craft, a trade once occupied solely by the male population.
A somber, early 20th century painting at the entrance of the hemp workshop depicts 4 women pounding and stripping hemp stalks before they began their long winter activity of transforming the fiber on their spinning wheels into durable yarn. Three additional paintings illustrate spinners and weavers at work in front of their looms and spinning wheels. Hemp was so popular in the everyday lives of the Gaumais that most women hoped for a hand break or scutching board with a hand-carved heart for their anniversary present.
The museum's hemp collection does not stop with its machinery. Well ahead of the modern day hemp movement, the museum's director of educational services, Myriam Pezzin, published a well-documented educational brochure in 1986 titled, "Daily life in Gaume in the 19th century: Working with Hemp" (Available upon request from Musée Gaumais).
What spurred her to undertake this research? "To best take advantage of our 19th century collection, we decided to explore an interesting, yet unknown dimension of daily rural life, one that would captivate students and teachers alike," explained Pezzin.
"We choose to highlight the domestic activities of rural life, particularly from a woman's point of view, focusing on two activities which occupied a major portion of their energy and time each year -- the annual laundry and the transformation of hemp."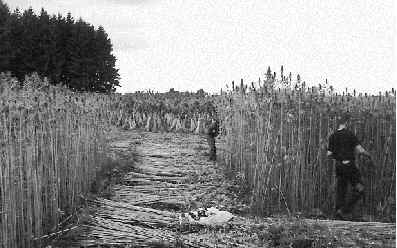 Hemp in Belgium today
Although hemp farming officially died out between the World Wars in Belgium, this year a non-profit organization, Le Bombe Verte (The Green Bomb), is attempting to revive the interest of farmers and the general public alike in hemp's potential as a cash crop. By filing an official request to plant a trial hemp crop under the provisions of European Union law, Le Bombe Verte has spurred the Ministry of Agriculture to publish a bulletin aimed at potential farmers, which outlines the procedures for farming hemp (Lettre-Circulaire N 2670 published by the Bureau d'Intervention et Restitution Belge). Le Bombe Verte subsequently planted a trial hemp crop of 60 hectares. The crop was hand harvested in September. A major portion of the harvest will be donated to the Free University of Brussels, for a research project on gasification.
Le Bombe Verte's symbolic crop, the first official hemp crop in Belgium since the early 1960s, is located only 20 kilometers from the Museum of Gaume. The project has received considerable national and local news coverage in Belgium, particularly with the promise of an EU subsidy. Although only two requests were received this year by the Belgian Ministry of Agriculture to grow hemp, Frederic Raes, one of the "Bombe Verte" founders says many more farmers are already exploring the possibility of planting in 1997.
The next time you're passing through Belgium, take a moment to explore the Belgian Lorraine region and visit the Musee Gaumais, approximately 200 kilometers from Brussels. Trains to Virton leave from Brussels South Station every two hours.
Open daily from 9:30-12:00 and 14:00-18:00.
Closed Tuesdays and from December 1 - March 31
Fax: + 32 63 57 69 42
Tel: + 32 63 57 03 15
Rue Arlon 38- 40, Virton, Belgium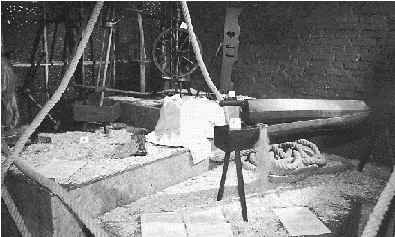 Important historical hemp dates in Belgium:

May 30 The traditional day for sowing hemp seeds -- before May has gone to bed and June has risen.

July 22 When harvesting female hemp stalks on St. Madeline's Day, the rural folk would chant, "Harvest your hemp on St. Madeline's Day. If it's not ready, bale it for another week.

February 5 St. Agathe's day was an important celebration for the French Lorraine women; it marked the end of their long nights by the spinning wheel. - Translated from "Daily life in Gaume in the 19th century: Working with Hemp".
---