57
---
Museums
---
Hemp's Heritage in the Loire region
Génon K. Jensen
286 chausée d'Alsemberg, 1190 Brussels, Belgium,
Tel: +32 2 345 9840
Deep in the heart of the Loire valley of France, best known for its majestic castles, the forgotten tradition of hemp cultivation has been slowly resurrected over the last ten years. Through a series of hemp museums, hemp fairs and historical films, local and regional volunteers and authorities are raising public awareness about hemp's former economic and cultural importance. In the 18th century, hemp ropes and sails transformed the Loire region into a flourishing, profitable shipping industry, with 8,000 ships between Nantes and Roanne. Hemp farming officially died out in the region in 1964, when the advent of nylon made local hemp rope makers uncompetitive. However, these past days of glory can be experienced in Montjean-sur-Loire, where the Ecomusée is open all year long and the annual hemp fair draws hundreds of spectators each August.
Preserving the past: Ecomusée
Founded in 1986, the Ecomusée transports visitors through hemp growing and transformation in the 18th, 19th, and 20th centuries. In Room 2, exhibitions of hemp machinery, including hemp sowing and reaping equipment, and hand and mechanical brakes, illustrate the evolution of the hemp farming. According to a museum spokes person, one of the horse-pulled hay harvesting machines came from Chicago. It was initially transformed to harvest hemp stalks out of necessity during World War II to replace hand harvesting, which was too laborious for the young boys and women left behind.
Visitors can also view a 20 minute video featuring interviews from retired hemp growers who helped to create the Ecomusée. They demonstrate the different methods and steps in hemp growing to help the audience understand how the equipment on exhibition was used.
Entertaining, real-life demonstrations of hemp breaking and rope making by local volunteers are given in Room 3. To request a demonstration or an English-speaking guide, reservations must be made well in advance. Visits generally last two hours, but if the retired hemp growers like the group, it can last for an entire day!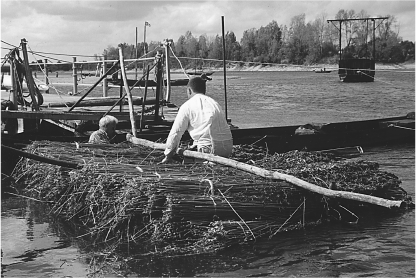 Figure 1. Bundles of dried stalks are tied together before being submerged in the water to ret.
August Hemp Fair
If you're in France this August, why not stop by the Loire region to experience hemp culture first hand? The annual Hemp Fair, along the sunny banks of the Loire river at Montjean-sur-Loire, takes place this year from August 24-28. It will bring together former hemp farmers and volunteers, known as "chanvriers", who enthusiastically transform hemp fields into finished ropes in front of an encouraging public. In their traditional, long-sleeved white hemp shirts, the chanvriers demonstrate how hemp was hand-harvested and bundled before being loaded onto barges and placed in the Loire river, which furnishes an optimal flow and depth for retting. The most difficult part, according to one of the retired hemp farmers, is pulling the bundles out of the water - doubled in weight - before stacking them to dry.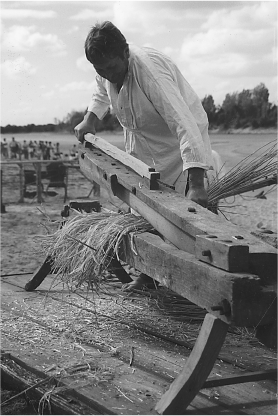 Figure 2. Local "chanvrier" breaking dry hemp stalks.
(Photos by Frédéric Raes / Bombe Verte)
Breaking by hand, as well as mechanical breaking with the help of a horse drawn pulley, are also demonstrated throughout the course of the week. If your French is good enough, you can even listen to authentic hemp harvesting antidotes over the loud speakers by farmers who still remember when the automated hemp brake appeared in 1945.
If your thirst for French hemp folklore has not yet been quenched, another small hemp museum exists in Vivoin, about 120 kilometers from Montjean. Mr. Morvan, curator of the museum, describes the labour-intensive nature of hemp farming as late as the 1960s. "To grow 50 hectares of hemp, you needed at least 17-18 laborers to harvest the hemp and get it ready to sell." Until 1935, hemp seed was generally hand sown by the women at a daily rate of only a demi-hectare (0.5 ha), before it was replaced by a time-saving mechanical sower - 5 hectares per day.
The museum furnishes a 4-page article titled, "Le Chanvre" (Hemp), which provides a detailed description of hemp farming techniques from 1860 and explains how hemp formed an integral part of the community's cultural heritage. The museum also has documentation about hemp seeds used today in the region and information about obtaining regional subsidies, which were first introduced in 1946 to entice farmers to grow this cash crop. Today, hemp farmers can receive regional subsidies of 4,000FF (US$700 or 774ECU) per hectare.
Fortunately, Mr. Morvan and the community are also excited about the future of industrial hemp. Two years ago, a textile factory was built to create hemp textiles. Not far away, IsoChanvre produces hemp-based building materials and insulation. If the hemp enthusiasts' dreams come true, perhaps the Loire valley will once again see its fields covered with hemp.
Ecomusée de Montjean-sur-Loire
49570 Montjean-sur-Loire
Tel: +33 2 41 39 08 48
Open 3:00pm - 7:00pm daily from Easter to November 1 (closed on Mondays)
Open all-year for group reservations
Prieuré Vivoin - Musée de la vie autrefois
Belles Riviéres
72170 Vivoin
Contact: Mr. Yves Morvan
Tel: + 33 2 43 97 04 83
Fax: + 33 2 43 33 85 47
Open : 2:00pm - 6:00pm, Wednesday thru Sunday - Open every day from June - August or upon reservation
Festival du Chanvre (Hemp Fair) at Montjean-sur-Loire
August 24-28, 1997 For more information, contact the Ecomusée
Other hemp demonstrations in the region:
August 24, Coudrecieux sur Sarthe
August 31, Monloielle sur Sarthe
September 7, Fain la Folie (between the Loire and Ecre rivers)
Yugoslavian Hemp Museum
Janos Berenji
Institute of Field and Vegetable Crops, 21470 Backi Petrovac Yugoslavia,
tel.: +831-21-780-365, fax: +381-21-780-198, e-mail: berenji@EUnet.yu
Agriculture is a major part of the Yugoslavian economy. In spite of its importance and long-standing history, it was not until 1993 that a museum devoted to agriculture was established in the village of Kulpin, 20 km from the town of Novi Sad (the capital of Vojvodina Province). In the long-term program of the museum, general exhibitions (e.g. history of agriculture, plant production, animal husbandry, soil cultivation, etc.) are planned, as well as special exhibits illustrating specific parts of agricultural activity. In fact, the first exhibits prepared are not of general, but rather specific interest: the history of hemp, broomcorn and hop production.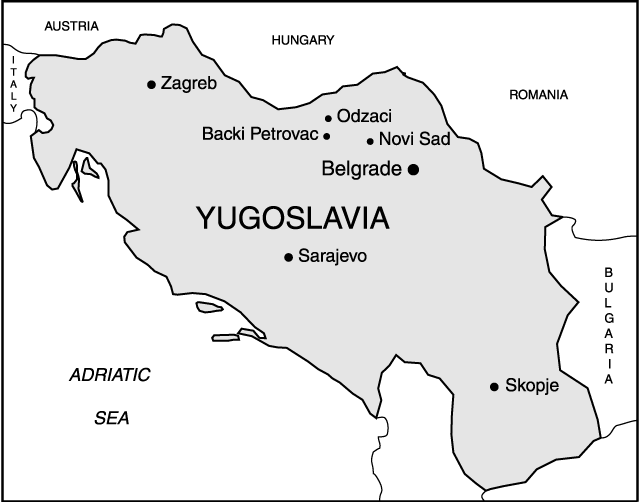 The hemp exhibit is primarily based on two books written by Prof. Dr. Jan KiŠgeci in 1989 and 1995. Excellent photographs from these books were used as references by those rebuilding the almost forgotten devices used in hemp production, processing and utilization. These hemp tools were collected by enthusiasts in rural areas and preserved by professionals from the National Museum of Vojvodina. The first part of the exhibition is devoted to the morphology, origin and early distribution of hemp. The distribution of northern and southern ecotypes is shown, with special reference to the importance of Italian (southern) hemp for Yugoslavian hemp production. Historically, this is illustrated by the fact that the Austro-Hungarian empress Maria Theresa recommended in 1765 that only high-quality hemp should be sown, so she ordered colonists from northern Italy to be invited to the province of Vojvodina to transfer high quality Italian hemp along with the skills of hemp cultivation and processing.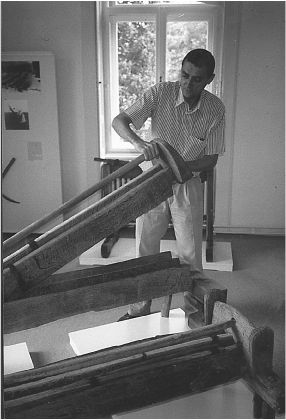 Figure 1. Janos Berenji demonstrates the operation of a traditional Yugoslavian
hemp brake.
The second and largest part of the exhibition demonstrates the traditional way of hemp cultivation and processing. Poverty forced people to be self-sufficient, so farmers produced their own fabrics and similar articles from hemp. Until not too long ago, there was virtually not a single household without hemp crops, equipment for its processing, or hemp-based products of some kind. The exhibit features a well-documented presentation of the old-fashioned ways of hemp sowing, hand-harvesting, water retting, crushing, spinning and weaving. A set of well-preserved old devices used for domestic hemp processing presents the most valuable part of the exhibition. Of special interest are folk customs and different items like grain bags, coarse blankets, horse harnesses, ropes, and hops sacks made of hemp.
The third part of the hemp exhibit explains the period in which hemp became an industrial crop. From 1900-1960, there were at least 30 towns with active hemp-processing facilities in the territory of Serbia. Photographs show the way by which water retting pools were dug by hand, the decorticating performed by automated breakers, and large factory workshops equipped with powered spinning machines and looms.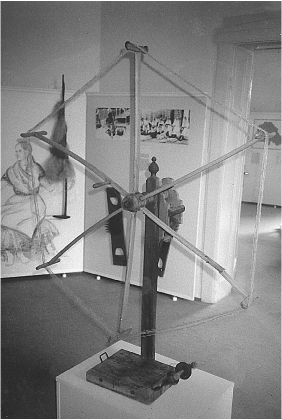 Figure 2. Frame for winding hemp yarn.
Part of the hemp exhibition is devoted to hemp research, which was officially started in 1952 when a research station in Backi Petrovac (on the way from Novi Sad to Kulpin) was established as a part of the Institute of Agricultural Research (presently the Institute of Field and Vegetable Crops) in Novi Sad.
Hemp is a minor crop in Yugoslavia today. Ambitious plans exist for its revitalization, with special emphasis on classical (threads, twines, ropes, cordage, rough canvas) as well as modern textile products and paper, seed oil, etc. Based on the rich and long-lasting history of hemp in this region, which is so well documented in the hemp exhibition presented at the Museum of Agriculture, it is expected that hemp will easily become a major crop of Yugoslavia once again.
Anything can be improved, so there are already proposals to expand the hemp exhibit. It is well known that a unique hemp stock market was established in the town of OdŠaci at the beginning of this century, which influenced prices as far away as Italy and England. At the time of preparing the exhibit, no picture of this stock market could be found. Since then, such a photo has been discovered (it is published for the first time with this article, see below) and is a special addition to the hemp exhibit of the museum.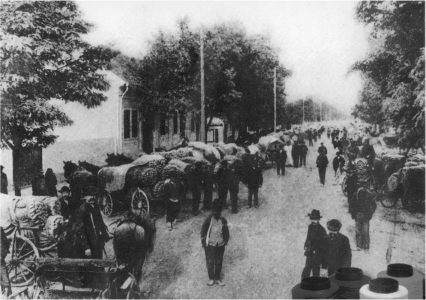 Figure 3. A hemp stock market was established in the town of Odšaci at the beginning of this century.
Additional information:
Berenji, J. 1992. Konoplja (Hemp). [Serb] Bilten za hmelj, sirak i lekovito bilje 23/24 (64-65): 79-85.
Berenji, J. 1996. Present status and perspectives of hemp in Yugoslavia. Agricultural Engineering 2(1-2): 1-11.
Berenji, J. and Martinov, M. 1997. Hemp in Yugoslavia: past, present and future. Proceedings of Biorohstoff Hanf symposium, Franfurt (in press).
Clarke, R. C. 1996. Interview - Dr. Janos Berenji Journal of the International Hemp Association 3(2): 69-70.
KiŠgeci, J. 1989. Konope, konope, zelene konope (The tradition of Hemp Growing) [Slovak] Obzor, Novi Sad.
KiŠgeci, J. 1995 Praise to hemp [Serb and Eng.] Nolit Beograd & NIP Novi Sad, 1995.
Renaissance of Hemp Symposium. Journal of the International Hemp Association 3(2): 83, 1996.
---