107
---
Conference Reports
---
Hemp Industries Association Convention
Gathering at the Isis Oasis in Geyserville, California for the 4th Annual Hemp Industries Association Convention, from October 6th through 9th, were 98 people representing 68 hemp companies from seven nations. Monday afternoon we met in the theater to be greeted by Ken Friedman, President. Election results were announced, and afterwards, we adjourned for the first of many fine meals prepared by Elizabeth Moriarty Catering. Many hempseed foods were served for the health and enjoyment of attendees. Networking, partying and live music created a wonderful relaxed atmosphere that evening.
Tuesday, October 7th, after breakfast in the dining pavilion, the general meeting began with an HIA member profile and industry growth analysis by Candi Penn, HIA Secretary, based on the demographics of the HIA membership. John Dvorak, of the Boston Co-op and editor of Hemp Magazine, followed with some great information about the history of hemp, highlighting the hemp rope walks of New England in the 1600s. After a break, International Reports were presented on Canada by Larry Duprey of The Hemp Club, on Hungary by Ken Friedman of American Hemp Mercantile, on Romania by Eric Steenstra of Ecolution, and on Germany by Gero Leson newly of Consolidated Growers and Processors. The China connection was next on the schedule. Dawn Pickering of Pickering International, Michael Sutherland of Appropriate Technologies, Helen Sheng Ge of the State Shandong Textile Mill, and Rob Clarke of the International Hemp Association gave us a great overview of what is happening there, highlighted by Rob's slides of Chinese hemp culture.
After lunch, we explored Hemp Industry Promotion Concepts with Mitch Cahn of Headcase, Marta Zmoira of Hemp Times, Mandy Manocchio from the International Fashion Boutique Show, and Sandra Weinstein, a guest public relations expert. Agriculture was the next topic with Jerzy Prytyk of Canada's Hempco-Shazam Farms, John Roulac of Hemptech (with his new book Hemp Horizons) and Rob Clarke of the International Hemp Association, who spoke about hempseed breeding and technical aspects of hemp cultivation. Another scrumptious dinner and a speech by former Senator Lloyd Casey from Colorado ended a full day of education.
Wednesday morning October 8, we started the day's proceedings with the Successful Retailers Panel Discussion. Cindy Biggers of Hemp in the Hollow, Richard Scott of Everything Earthly, Rob and Gretchen Harris of Cascade Hemp Supply, and Mark Tucci of Customblends - No Problem got down to the harsh reality of retail sales, with warnings of "Do it right, or don't do it!" Quality, service, location, and adequate funding were the primary concerns. The importance of educational materials and point of purchase displays was also emphasized.
The Hemp Business Solutions Panel began in the late morning, featuring our most successful wholesalers Ken Friedman of American Hemp Mercantile, Eric Steenstra of Ecolution, Steve Boutrous of Two Star Dog, Mitch Cahn of Headcase, Don Wirtshafter of The Ohio Hempery, and Richard Rose of The Hemp Corporation. After a presentation by Richard Rose and Denny Finneran of Crucial Creations on the first HIA 100% hemp textile certification, many importers joined in the discussion on testing and acceptable procedures for the HIA program. A committee on this subject has been formed.
Real Goods Trading Corp. CEO John Schaeffer told us the story of the evolution of his $8 million company, and then introduced his catalog director Robert Klayman who criticized the hemp industry for its lack of continuity. Next was a report from the Hempseed Foods and Oil committee meeting led by Don Wirtshafter. Peter Thielen of Island Hemp Wear gave us a report on Hawaii and his mother's (Rep. Cynthia Thielen) achievements there. She sent a hemp building brick and beautiful carpeting samples from France. A session on alternative financing was then presented by Richard Rose, HIA Treasurer. Wholesale and Retail Committee meetings were available next, as were workshops on Paper and Pulp with Carolyn Moran of Living Tree Paper Co., and Web-site Creation with Dave Sleigh, the HIA web master.
Wednesday's dinner was complimented by the 3rd Annual Hempy Awards with Hemp World's Mari Kane and staff presenting the HIA with the Leadership in the Hemp Industry Award and also the Web-site Award because we provide access to the greatest number of companies in the hemp industry. The IHA received the Agricultural Achievement Award for their work to support reproductions of the Vavilov Institute's Cannabis germplasm collection.
The final morning of October 9 was utilized for more networking and clean-up. It was a great success, beyond our expectations. Thanks to all those who supported the event.
Candi Penn, Secretary
HIA - Hemp Industries Assoc.
PO Box 1080, Occidental, CA 95465
1-500-HIA-HEMP & 707 874-3648
FAX: 707 874-1104
e-mail: info@thehia.org
Website: http://thehia.org
"Future of Hemp in B. C." Conference
The "Future of Hemp in BC" conference was held over the November 8-9 weekend (coinciding with the North American Industrial Hemp Council Conference in St. Louis), setting the stage for re-introduction of North American commercial cultivation for the first time since World War II.
The event was kicked off by Senator Lorna Milne, who was instrumental in getting Health Canada to commit to release commercial regulations for industrial hemp in January 1998. In her speech to the over 100 attendees, she recommended that letters be written to Members of Parliament and to Minister of Health Allan Rock to encourage draft regulations be released in time for comment. These draft regulations were to have been made available by mid-November for a comment period of 30 days. Copies of these regulations are available from local Health Canada officials.
Over the weekend, attendees enjoyed organic food which included hempseed-based salad dressings, breads, cakes, ice cream and beer. Attendees also enjoyed a fashion show featuring apparel from Board'Em, HempTown, Of The Earth, and a number of cottage-industry clothes from the Cascadia region.
Sunday morning's first guest speaker, Robert C. Clarke of the International Hemp Association, gave expert advice on issues of hemp cultivation and a suggestion as to how British Columbia might position itself as a seed hemp producing area. Refe Gaudiel of the Alberta Ministry of Agriculture shared the results of their research plots and gave BC farmers an indication of the anticipated returns for the various cultivars to be planted in Canada in 1998. Health Canada's Greg Smith finished off the Sunday speeches by echoing Senator Milne's suggestion for farmers and businesspersons who are interested in getting the industry off the ground, to send the letters to their Members of Parliament and to Minister Rock to express their intent to plant and contract with farmers, respectively, for the 1998 commercial hemp season.
The weekend also saw the formation of WestHemp (BC), the BC region's hemp growers cooperative. The foundation meeting resulted in the formation of KAM-HI (Kamloops Hemp Initiative), North, North Okanagan, South Okanagan, Kootenay-Boundary, Lower Fraser, and Vancouver Island bioregionally-based cooperatives. In anticipation of the commercial regulations, the members are planning to register with WestHemp (BC), which will apply for one commercial license for all of the members under its umbrella. WestHemp (BC) will also be responsible for acquiring or soliciting seed, expertise, equipment, and of course funding for its operations. It will also take on the responsibility of contracting with end users.
The Sunday workshops featured the North American premiere of a new decorticator, the hemp equivalent of the cotton gin. Jim Hill of Hill Agra Sales displayed his interpretation of the Schlicten decorticator, as revealed in The Schlicten Papers by Don Wirtshafter of the Ohio Hempery, who was excited to see yet another of his dreams become reality.
These workshops also featured annual fiber pulp and paper making with master paper maker Helmut Becker, assisted by Mark Bologna of Green Man Pulp and Paper, both of whom demonstrated techniques for making paper on a micro-industry scale. Annual fibers construction was demonstrated by John Stahl and Dave Cull, who instructed on how to make cement from the hurds of the hemp plant. Brad Davis and his hurd partners Marion and Jared displayed how hemp can be incorporated into hurd construction with a scale model of a hemp hurd house. Dr. Ken Domier demonstrated how hemp and other annual fibers can be used to make particle board and hemp fiberglass. Brad Davis spoke of organic fertilization, its incorporation into commercial hemp production and its benefits both environmentally and from a higher return at the farm gate. Hugh Philip of the BC Department of Agriculture predicted future applications of Integrated Pest Management techniques in hemp crops. Agua Das and Diana Krebs demonstrated how to make bio-diesel from vegetable oils including hemp, producing a fuel that burns up to 75% cleaner than petrochemical sources. Hungry Bear's Todd Dolatto spoke to the audience of the nature of hempseed as a food and the considerations to be made when processing this valuable oilseed. Finishing off the conference was Don Wirtshafter of the Ohio Hempery who spoke to the audience of the importance of next year's commercial hemp season, from the perspective of a major end user of hemp seed and fiber products.
Douglas Brown
White Buffalo Renewables Inc.
3440 East 22nd Avenue
Vancouver, BC V5M 2Z4
CANADA
Tel.: (604) 433-1848
Fax.: (604) 433-1484
e-mail: wbr@imag.net
ACM-Meeting in Cologne
On Saturday, November 22nd, the conference "Cannabis and Cannabinoids as Medicine", organized by the Arbeitsgemeinschaft Cannabis als Medizin (ACM, Alliance for Cannabis as Medicine) took place in Cologne, Germany. Experts from Germany, Switzerland, and Holland presented lectures on the history of medical Cannabis use, and the therapeutic potential of the Cannabis plant for pain therapy, organically caused spasticity, cancer, AIDS and glaucoma. They spoke about the most recent findings in receptor research as well as legal problems associated with the use and distribution of medical Cannabis.
In his greeting, Dr. Ingo Flenker, president of the Ärztekammer Westfalen-Lippe (Medical Bar of Westphalia-Lippe) and chairman of the advisory committee for drugs and addiction of the Bundesärztekammer (Federal Medical Bar), requested the useful medical-therapeutic application of Cannabis "to be legalized to stop the present outlawing of physicians and patients".
Similar requests were brought forward by Dr. med. Gerhard Müller Schwefe, president of the SCHMERZ-therapeutisches Kolloquium (Pain-therapeutic Seminar), Dr. Hans-Josef Linkens of the Deutsche AIDS-Hilfe (German AIDS Aid) and the Chairman of the Deutsche Gesellschaft für Drogen- und Suchtmedizin (German Society for Drug and Addiction Medicine), Dr. med. Rainer Ullmann.
Dr. Axel Horstmann, Minister of Health of North Rhine Westphalia sent his regards, saying that he wished for the conference to take a successful course. He pointed out that the application of Cannabis compounds could be reasonable with a range of illnesses. However, in the case of medical use, any kind of misuse would have to be precluded.
In the course of the successive meeting of the Alliance for Cannabis as Medicine (ACM), the participants from Germany, Austria and Switzerland emphasized the need for increased state subsidies for research. State institutions and agencies in the three German-speaking countries were asked to financially support not only an examination of possible negative consequences of Cannabis use, but also the research of possible useful pharmacological effects.
The impediments to research were criticized sharply. Whoever finds fault with a deficient state of research, while simultaneously obstructing this research work, discredits himself and turns against those patients who would profit from Cannabis medicines.
Dr. med. Franjo Grotenhermen (1st chairman)
Arbeitsgemeinschaft Cannabis als Medizin (ACM)
(Alliance for Cannabis as Medicine)
Maybachstraße 14
D-50670 Köln
Tel.: +49 (0)221-9123033
Fax: +49 (0)221-1300591
e-mail: ACMed@t-online.de
Internet: www.hanfnet.de/acm
Second International CannaBusiness Expo
The German tradition of international trade fairs goes back to medieval days and the goal of providing a complete Cannabis marketplace was well met this year in Castrop-Rauxell, Germany. 140 firms from 14 nations came together in two halls to meet with over 10,000 visitors from the trade and public. Half the exhibitors were producers, 30% were wholesalers of goods, and the balance was comprised of the media, service providers, institutes and associations.
European attitudes allowed this single event to represent all branches of the cannabusinesses - industrial hemp producers, medicinal researchers, paraphernalia & grow products and the media - within the confines of a complex created out of municipal buildings and a large portable tent-hall. This extra building, called 'Hemp Bioresource 2', exhibited the goods of about 35 industrial hemp products producers.
The big news for us was knitwear and hemp foods. A number of firms were exhibiting sweaters, dresses and even under-wear in 100% hemp, and still more folks are working with hemp/cotton blends to produce sweaters, t-shirts and sweat suits that are hempster friendly.
Hemp food highlights included examples from the Bernhardt brothers at the firm "iF". These hemp innovators had displayed a 100% hemp mattress in 1995 at Bioresource Hemp (it's currently available through another German firm, Greenhouse Hanf Kantor of Frankfurt), but have now devoted themselves to tasty hemp foods. With a proprietary process for removing the hard outer shells from hemp seeds, these clever men have taken hemp foods a giant step forward. Their delicious chocolate bar with shelled hemp seeds inside was awarded the Product of the Year in the hemp products division by visitors to CannaBusiness. They are busy at work on a partnership with North American hemp foods pioneer, Richard Rose.
Also seen were baked goods, noodles, chocolate-hemp seed paste (think Nutella™), hemp seed oils, several hemp beers and spirits and a dozen or so other food products. Austrian firm 'Spirit of Hanf!' produces a full line of these drinks and they have developed a crispy little puffy snack from hemp flour and spices that perfectly complements the beverages. Together, they made for quite a cocktail crowd at the stand toward the end of the afternoons.
The Swiss and the Austrian hemp producers chose to unite their respective forces and have pavilion style stands - Swiss World and Austrian World, if you will. The Austrian pavilion included some stylish knit and woven hemp wear, very high-end body care products, the Spirit of Hanf stand and our perennial favorites, the makers of Hempstone. This creative team has figured out how to make hard molded objects of any shape from powdered hemp cellulose, mixed with water and formed with heat and pressure.
Notable at the Swiss pavilion were hemp pastilles. These tiny candies are flavored with a real hemp flower essential oil and taste like a bite from a Cannabis flower. Current Swiss law allows the cultivation of Cannabis of undetermined parentage and wildly varied THC levels on the mountainsides. A crop of hundreds of hectares is needed to supply the flowers to make significant quantities of essential oil. The vial of essential oil I purchased from 'Growland' of Bern smells more like the plant than any other Cannabis perfume.
In addition, there were kits for detecting the presence of THC (though not absolute amounts), diverse products made with Cannabis essential oils (how about an auto-air freshener, shaped like a leaf and smelling something like Cannabis?), and many new developments for the production and consumption of recreational marijuana.
One of the stated goals of CannaBusiness™ is to create a significant "communication window" for the emerging Cannabis world by gathering many significant members of the community together in one place at one time, in a relaxed, but businesslike atmosphere. There were three days of lecture programs, a progressive fashion show that incorporated jazz, tap and modern dance (along with the standard strutting models), evening parties, a very relaxed, sunny, outdoor beer garden (where all the hemp beverages and foods were on sale for easy sampling or take-home purchases) and a small hemp field on the expo hall grounds. The fact that the crop survived intact to the end of the season is, in itself, a tribute to the communication skills of the organizers - a couple of hundred middle school kids walk past the hemp garden every day on their way to school, yet the difference between rope and "dope" was explained to them and the plants survived intact.
On September 25, 26 and 27, 1998 the Third CannaBusiness is moving to the scenic town of Hennaf (the Old German word for hemp), where a larger convention facility awaits. Potential exhibitors and visitors are encouraged to contact the organizers, Tri Tech GmbH, by e-mail: Frank Zander <tritec.orga@cww.de>.
Annie Riecken
NZ Voorburgwal 66, Suite 71,
1012 SC Amsterdam,
The Netherlands
e-mail: annier@mail.xs4all.nl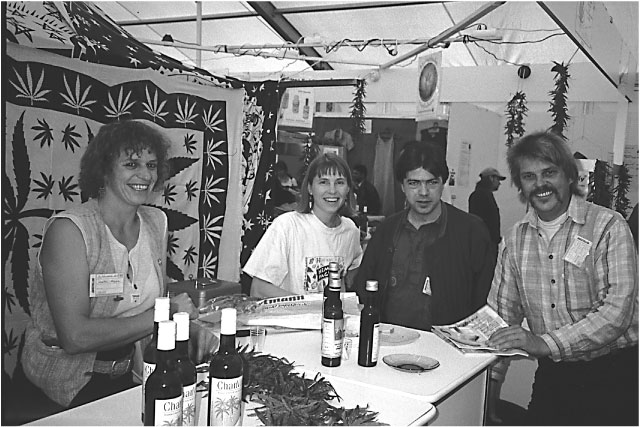 Mari Kane of HempWorld magazine visits with Bernard Rappaz of Valchanvre at the Swiss pavilion.
"Flax and Other Bast Plants" Symposium
The symposium was organized by the Coordination Centre of the FAO European Cooperative Research Network on Flax and Other Bast Plants, at the Institute of Natural Fibres in Poznan, Poland and the FAO Regional Office for Europe in Rome, Italy. The symposium was organized under the auspices of FAO/Rome, the State Committee for Scientific Research, and the Ministry of Agriculture and Food Economy.
The symposium, attended by 173 participants from 25 countries, was a first meeting in the network's overall activities, and included other fibre yielding plants besides flax. Although the symposium was predominated by flax-related topics, there were 12 presentations (out of approximately 40) covering topics connected with hemp. The papers were presented in three sessions: Harvesting and Processing of Flax and Other Bast Plants, Non-Textile Applications of Flax and Other Bast Plants, and The Role of the Bast Fiber Plants in the Recultivation of Polluted Areas.
The range of topics connected with hemp covered harvesting technology, processing, marketing, and other applications mostly in the non-textile fields, including even the arts.
In the hemp harvesting presentations, two trends were visible. The first trend was the application of medium-capacity machines that combine the harvesting of straw for textile or non-textile applications with the harvesting of seeds. The second trend included machines with high operational speeds, capable of harvesting large plantations of hemp. However, these technologies were designed only to harvest the stalks (mainly for non-textile applications), which is a considerable disadvantage, as it requires a separate machine to gather the seeds. Furthermore, no actual data on these high-capacity machines were presented, some of them still being in the design concept stage.
There were several presentations dealing with hemp processing. Among them was a mobile hemp breaker presented by Karl Ströml (see page 99). The machine is a one-axle trailer that does the initial processing of the stalks, extracting the fibre as well as removing the hurds. However, the fibre can be used only for non-textile applications such as construction and insulating materials. This machinery may solve problems associated with the high costs of transporting stalks to processing mills.
The presentations "About new technology of processing of fibre flax" by R. N. Giliazatdinov and "Versatile line for homomorphic flax and hemp fibres" by R. Kaniewski et al. were the only two dealing with the problem of hemp processing for textile applications. The first paper was about an innovative approach to flax or hemp processing. The technology allows the operator to obtain higher efficiencies of fibre separation and may be applied to raw material containing higher amounts of moisture.
The second paper presented a process for either retted or non-retted (green) hemp or flax straw. The product obtained as a result of processing is a homomorphic fibre useful for the production of hemp yarns that can be blended with natural or synthetic components. The line produces a fibre containing below 5% impurities, which may also be used for non-textile applications such as pulp.
Gordon Mackie in his paper "Hemp - Cannabis sativa" gave an overall view on the growing, processing and history of hemp as well as a short overview of the properties of hemp and the reasons why it lost its position in the textile market. The paper gave comprehensive data on the present status of hemp cultivation and hemp products output worldwide.
A very interesting approach to hemp products marketing was presented by Jane Kolodinsky in her presentation "Marketing of hemp products - the consumer is key". It detailed a sophisticated, scientific guidebook approach on how to deal with hemp as merchandise.
Among other non-textile applications of hemp, one paper focused on using hemp as a potential energy crop. Although theoretically it is possible to burn hemp, it seems that it is too valuable to use it as a fuel, and it is rather unlikely that hemp will overcome advantages offered by rapeseed oil in this field. However, under certain conditions, hemp hurds may be considered an alternative energy source.
The traditional non-textile application of hemp is in the production of particle board. Developments in this field were demonstrated by Edwin Lloyd in his paper "Particle boards and insulating boards based on hemp shives and hemp straw". The newest applications in this field are medium density fiberboard (MDF) and insulating boards made of whole hemp stalks. The favorable mechanical performance of hemp stalks make them particularly valuable for this application, as well as for insulating boards, widening possibilities for the industrial utilization of hemp.
The only presentation devoted to the use of hempseed in food was "Comparison of contents of fatty acids and cannabinoids in different varieties of hemp" presented by Ryszard Kozlowski. What makes hemp seed a valuable dietary component is the content and composition of fatty acids in the seed oil. As shown in the presented paper, from a dietary point of view, omega-3 and omega-6 fatty acids are found in an optimum ratio. The content of certain fatty acids, especially stearidonic and gamma-linolenic acid, two of the valuable dietary ones, depends on the location of the crop, with levels increased at higher latitudes. There is practically no THC detected in hemp seeds and hemp seed oil.
In a separate session of the symposium, covering the utilization of bast fiber plants in reclamation of polluted soil, two papers discussed the phytoremediation of soils polluted by heavy metals through cultivation of fiber and other industrial crops: "Phytoremediation of soils contaminated by copper smelter activity" by W. Grzebisz et al. and "Three year results on utilization of soil polluted by the copper-producing industry" presented by Przemyslaw Baraniecki. Both papers emphasized the capability of industrial crops for controlling the content of heavy metals in the soil and preventing them from entering the food chain. One of the most effective plants in phytostabilization of heavy metals in the soil was found to be hemp, which additionally provides a valuable raw material for different industries. Therefore, it is advisable to change the structure of crops cultivated in polluted areas by favoring non-food industrial crops.
The overall agenda of the symposium emphasized hemp's versatility. The central message of the symposium was that hemp's time is still to come. Many of the applications presented, although interesting, cannot yet compete economically with the present uses of traditional crops. However, mainly due to environmental advantages, like remediation of soils polluted by heavy metals, it is only a question of time until we may have no other choice but to utilize hemp.
Przemyslaw Baraniecki
Institute of Natural Fibers in
Poznan, Poland.
---